Military / Aerospace Filters
MDC – Military DC Drive EMC/EMI filters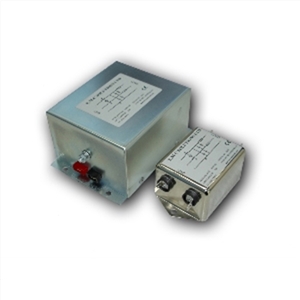 Manufacturer:
Total EMC Products Ltd
Application:
DC Equipment
Product Size:
See Datasheet
Standard Data
High current capability - Micro size

High common & differential mode insertion loss

Improved low frequency performance

Insulated safety screw contacts

Side or base mounting

Optional input transient suppression to suit application
Technical Data

Current Rating: 1 - 50A

Voltage: 48 – 210V DC

Attenuation: Medium
The MDC series of EMI/RFI filters is designed specifically for DC applications which have to comply with the rigorous requirements of Def Stan: 59-41 and Mil Stan 461/462.
High attenuation on both common and differential modes allows for high performance filtration especially at the low frequency end of the spectrum. Polypropylene capacitors are used for high pulse power handling at high frequencies.
The filter components are housed in compact chassis mounted enclosures, and encapsulated in a polyurethane potting compound to give excellent protection against shock and vibration, thus making it ideal for ruggedized requirements.