Single Phase Filters
Dual output Military IEC EMC/EMI Filter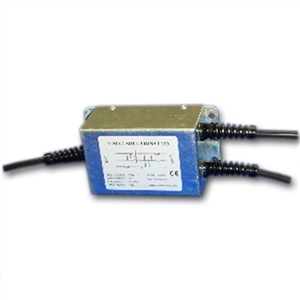 Manufacturer:
Total EMC Products Ltd
Product Size:
See datasheet
Standard Data
Compact dimensions

High attenuation characteristics

Transient protection

In line device
Current Rating: 3 – 6A

Voltage: 115 - 230V AC

Frequency: 50 – 60Hz

Attenuation: High
Our new Military Range of IEC Filters is an innovative development and has been designed to ensure Defence Standard compliance for various equipment applications in particular for IT. It's physical compactness along with its outstanding performance in attenuation of unwanted interference makes this range unique. The In-line design allows ease of application and installation including retro fitting.
The MIEC filter series is a multiple stage device with effective attenuation characteristics at very low frequencies, which is not normally a requirement in commercial products. Transient protection is built-in to these products to assist with susceptibility test. The housing is plated mild steel and the filter is encapsulated within this surround. This allows the unit to be securely mounted on its base and that disconnection is not made via vibration or shock.
This filter is available in two different case sizes and various current ratings from 1A through to 10A. This makes it a very compact multi-application unit providing the ultimate attenuation package.