Custom
DYT- Custom High Performance EMC/EMI Filter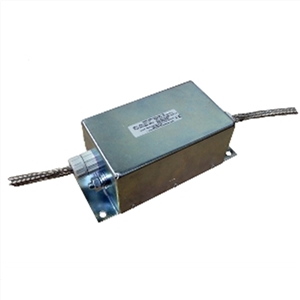 Manufacturer:
Total EMC Products Ltd
Application:
Tempest IT, Air Con, laptop computers, Uninterupta
Product Size:
See Datasheet
Standard Data
Technical Data
Current Rating: 1-10A

Voltage: 115 – 440V AC

Attenuation: High
The high performance, (Tempest) filter has been specifically designed to customer specific requirements; to provide a TEMPEST rated filter within a small package yet having high frequency attenuation levels with low leakage currents.
The DYT range will provide all the above requirements with the attributes of being fully sealed and able to withstand the most stringent shock and vibrant tests.
This is a multi stage device with Earth filtering and transient protection. This is to help overcome the problems that can either be present down the Earth line or transients that are across the lines.
The outer case is made of mild steel plated hermetically sealed and all the components inside the filter are polyurethane encapsulated to prevent shock and vibration affecting any of the components inside. External cables are double screened for extra performance with cables being low smoke, halogen free. The EMI filter is also RoHS compliant ensuring extra protection.