GP Shielded Room Filters
10 Amp, 3 Line GP Shielded Room Filter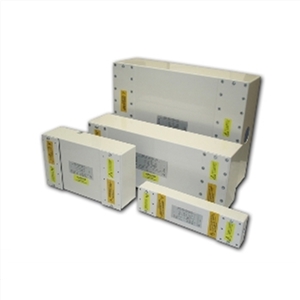 Availability:
6 - 8 weeks
Manufacturer:
Total EMC Products Ltd
Application:
Shielded enclosures/IT installation/Computer rooms
Manufacturer Part No:
010/3/GP/*
Product Size:
See Datasheet
Standard Data:
High current capability - Micro size
High common & differential mode insertion loss
Improved low frequency performance
Optional input transient suppression to suit application
Technical Data:
Current Rating: 10 Amp
Voltage: 230 - 520V AC
No of Lines: 3
Frequency: 50 – 60Hz
Attenuation: Medium – Very High
The GP (general performance) filter range are designed and tested for shielded room requirements, for attenuation from 100kHz – 1GHz at 60dB, this range of filters will also keep attenuating up to 40GHz and beyond.
Shielded rooms require high levels of attenuation to ensure no conducted / radiated emissions are either imported or exported from the room.

The filters come in 2, 3 or 4 line formats and have current ratings up to 3000Amps per phase. Transient suppression can be added as an option to the filters to give protection against induced transients from EMP sources.
The filters are housed in steel enclosures that are then painted RAL 9001 for protection.
Custom options for this product are available, please see datasheet.
Please get in contact for details on deliveries and returns.
Please refer to the datasheet for dimensional data on this product.